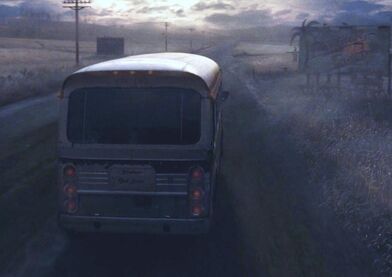 At the end of Sucker Punch, Sweet Pea boards a bus bound for Fort Wayne, Ind.
Movie Story
Edit
After escaping from Lennox House and stealing a dress, Sweet Pea went to a nearby bus station and attempted to board a bus out of town. She was stopped by two Vermont State Troopers, but the bus driver -- an incarnation of the Wise Man -- told the authorities that she had been his passenger when the bus arrived in town and he let her off to use the restroom. Convinced, the troopers allowed her to get on the bus. Although she had no ticket, the driver told her she didn't need one and advised her to take a seat in the back and get some rest. The bus then rolled out of town, into the sunset.
The driver told the state police that Sweet Pea had been in his bus "since Hartford." Either that was a quickly thought-up cover story or the bus is taking an unorthodox route to Fort Wayne, Ind. Hartford, the capital of Connecticut, is well south of Brattleboro, Vt., implying that after picking her up in Connecticut, the bus headed north to Vermont and then south and west. One would expect the bus to start in the north and dip south before heading west.
Photo Gallery
Edit