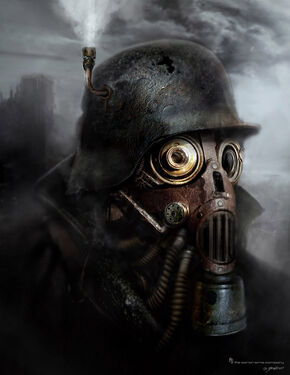 Concept Art
for a movie is created by a concept artist or conceptual designer, and is meant to provide aesthetics and visual ideas for directors and production designers. Concept art gives suggestions for the film environment, architecture, props, costume designs and visual effects. The idea is to imagine a "look and feel" for a movie through paintings, sketches and CGI!
Director Zack Snyder employed several artists, including Alex Pardee and designer Jerad S. Marantz to come up with ideas and promotional material.
Concept art is paid work performed by professional artists, and not to be confused with fan art.
An excellent selection of concept and promotional designs can be found in the glossy book, Sucker Punch: The Art of the Movie, by Zack Snyder.
Jerad S. Marantz Art
Edit
Jerad Marantz is the lead designer at the Aaron Sims Company, and he worked on character design and creature development for Sucker Punch. 
Here is a selection of Marantz's designs... 
Alex Pardee Art
Edit
A selection of Alex Pardee's character and promotional designs...
Movie Designs
Edit
Character Designs
Edit