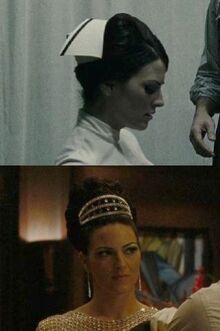 The first Lobotomy Nurse in Reaity also appeared in the Brothel as High Roller Girl #1 in Sucker Punch. Neither character has any lines.
Movie Story
Edit
In Reality, the brunette first Lobotomy Nurse can be seen on Babydoll's left side, strapping her into the chair as the Doctor approaches. The second Lobotomy Nurse is on Babydoll's right.
In the Brothel Fantasy Level, the brunette High Roller Girl #1 stands on The High Roller's left side, with High Roller Girl #2 on his right.
Actress Portrayal
Edit
The Lobotomy Nurse/High Roller Girl #1 is played by Monique Ganderton.
Photo Gallery
Edit