"Love Is the Drug," written by
Bryan Ferry
and
Andy MacKay
, originally appeared on
Roxy Music
's fifth studio album,
Siren
(1975).
In the Movie
Edit
This song is the third song from the
soundtrack
 that appears in the movie itself. It is used when
Vera
and
Blue
are onstage during a routine performance at the
Paradise Theater
in the
brothel reality
. There are two interesting notes about this track in particular: 1) the song was sung by
Oscar Isaac
and
Carla Gugino
, who played Bue and Vera, respectively. And 2) It's possible that this song is the only one to play completely. In the theatrical release, the scene with this song is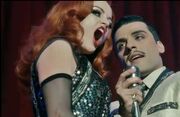 cut out, though parts of it can be seen during the end credits. However, it can be seen on the blu-ray extended edition. During said scene, four of the girls had dance parts during the performance:
Blondie
was the lead belly dancer,
Sweet Pea
is portrayed in a scenario where she's burning in Hell but is later ascending into Heaven,
Rocket
was the leading naughty nurse (identified by her brown hair) and
Amber
was a french maid in a hotel "scene." During that time,
Babydoll
was new so she didn't dance; she was instead washing dishes in the kitchen, collecting towels where necessary and assisting Vera backstage.
Track Number
Edit
9
Ain't no big thing
To wait for the bell to ring
Ain't no big thing
The toll of the bell
Aggravated - spare for days
I troll downtown the red light place
Jump up bubble up - what's in store
Love is the drug and I need to score
Showing out, showing out, hit and run
Boy meets girl as beat goes on
Stitched up tight, can't break free
Love is the drug for me

Oh love is the drug

Late that night I park my car
Stake my place in the singles' bar
Face to face, toe to toe
Heart to heart as we hit the floor
Lumber up, limbo down
The locked embrace, the stumble round
I say go, and I say yes
Dim the lights, you can guess the rest

Oh love is the drug (backup vocals [repeated once with Blue & Vera singing as well])
Oh love is love, is the drug
love is the drug
Is the drug
Is the drug
Is the drug is the drug

Love is the drug
The drug is love

Oh oh catch that buzz
Love is the drug I'm thinking of
Oh oh can't you see
Love is the drug, got a hook in me
Oh oh catch that buzz
Love is the drug I'm thinking of
Oh oh can't you see
Love is the drug for me

Ain't no big thing
Ain't no big thing

Can't you see
Love is the drug for me

Oh love is the drug
Oh love is, love is, love is the drug

Drug, drug
The Drug is love (blows into microphone)
Previous Song
Edit