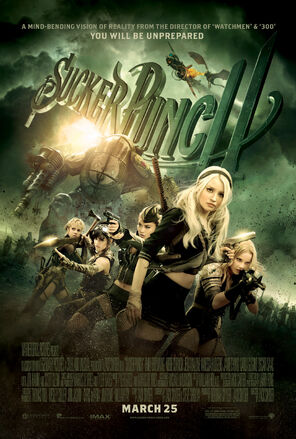 A poster is a printed paper product designed to hang vertically and display graphic and/or textual material. In the case of Sucker Punch, these posters are designed to promote the movie with eye-catching images.
Sucker Punch employed a number of types of posters:
Designed to create buzz before the movie opened
Character Posters:
Edit
Designed to showcase the ensemble or individual characters before or after release. 
One-Sheet Posters:
Edit
Featuring the main advertising image and the movie's "Billing Block" -- the names of the stars and production information that adorns the bottom of the poster, usually issued just before a movie opens.
Standees:
Edit
While technically not posters, standees -- cardboard advertisements that when assembled represent the movie in three dimensions -- qualifies for this page because many standees depict characters or poster art in three dimensions.
Lobby Cards:
Edit
See the Lobby Cards page.
Advance Posters
Edit
One Sheet
Edit
Character Posters
Edit
Promo Art
Edit
Foreign Posters
Edit