This song is the ninth and possibly the last song from the
soundtrack
to be used for the feature; it was performed by Carla Azar and Alison Mosshart. The song was used when
Amber
,
Sweet Pea
,
Rocket
and
Babydoll
worked to steal one of the Cook's knives;
Blondie
was absent due to the fact that she spilled the beans about their escape plan.
When the song played on the Cook's radio, the four aformentioned girls were sent to the fourth tier of the fantasy realm in order to combat a group of robots, disarm a bomb and steal said device before it blows up a city. However, things go completely wrong when one of the robots wasn't completely neutralized, knocked Rocket into a wall, and rearmed the bomb.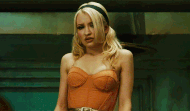 Back in the
brothel
, Sweet Pea managed to get a knife from the Cook before he snapped out of his trance when water from a tub made contact with the radio's worn cord and caused it to go awry. On the train, the bomb exploded with Rocket stranded on board the train and was killed; in the brothel, Rocket was stabbed and killed by the Cook while shielding Sweet Pea.
Track Number
Edit
6
Turn off your mind, relax and float downstream
It is not dying, it is not dying
Lay down all thoughts, surrender to the void
It is shining, it is shining
That you may see the meaning of within
It is being, it is being

That love is all, that love is everyone
It is knowing, it is knowing
But listen to the color of your dream

It is not dying, it is not dying
It is not dying, it is not dying
It is not dying

Turn off your mind, relax and float downstream
It is not dying, it is not dying
Lay down all thoughts, surrender to the void

It is shining, it is shining
It is shining, it is shining
It is shining, it is shining
It is shining, it is shining
It is shining, it is shining

Next Song
Edit
Previous Song
Edit